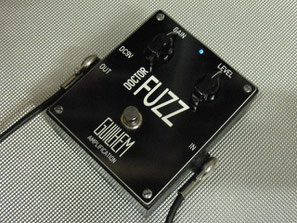 Cette pédale a été construite en Octobre 1996, et fonctionne toujours parfaitement. Il s'agit d'une Fuzz-Distorsion basée sur la Wah-Fuzz "Electro-Harmonix Muff-Fuzz Crying Tone Pedal", modifiée. Le gain est maximum, de sorte que les harmoniques fusent pour un son genre ça trie à nids, Gilbert, vaille que vaille !
Built in Oct. 1996, the Doctor FUZZ is still fully operational, no issue. It is derived from the Fuzz section of an "Electro-Harmonix Muff-Fuzz Crying Tone Pedal", with maximum gain and overtones facility.
---
C'est un clone de FoXX Tone Machine des 70's, qui est une Fuzz-Octaver, dont le gain est boostable (more !). L'octaver (commutable) est très efficace, mais pas polyphonique : si on joue en accords, on obtient un son délirant, "proche d'un seau de boulons et de clous qu'on déverserait sur le toit d'une voiture"... Sans octaver, le son est similaire à celui de la Big Muff Electro-Harmonix vintage 80s.
That improved FoXX Tone Machine clone has a gain boost (more!), a switchable octaver giving a "blizzard of nails" kind of sound. Otherwise, octaver defeated,  the tone is similar to the 80s EH vintage Big Muff PI.
---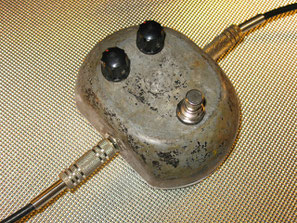 La Sbrodj Fuzz marche sur la Lune...
C'est un clone de Shin-EI FY-2 Companion Fuzz, version silicium, à transistors VHF NOS, pourvue d'un étage de sortie supplémentaire après son filtre "mid-scoop", car cette pédale est connue pour son niveau de sortie trop juste. Elle est réalisée dans une boîte en Zamak de 6mm type C-114 de l'US Army, utilisée pour les connexions des téléphones militaires lors du débarquement des Alliés sur les côtes Françaises le 6 Juin 1944.
The Sbrodj Fuzz Walks on the Moon... This is a Shin-EY FY-2 Companion Fuzz clone, silicium version with the "mid-scoop" filter.
It is built with NOS VHF transistors, and an additional output stage, as these pedals are reputed to have a too low output level. Its die-cast zamak model C-114 box is a lost vestige of the US Army Signal Corps, from the landing of June 6, 1944 in France.
---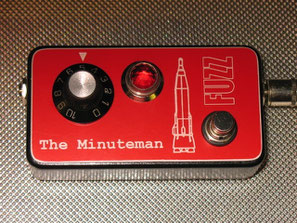 Elle s'appelle Minuteman Fuzz parce qu'elle a été dessinée et mise au point en une minute, ou presque...
Elle produit un son de Fuzz-Overdrive modéré, passe-partout et  qui sort bien dans le mix.
The Minuteman Fuzz is a one-minute design and test project... It gives a medium Fuzz-Overdrive tone, all-around and cutting through the mix.
---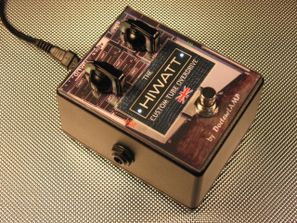 Le HCTO GUILHEM Amplification n'a rien à voir avec l'original dû à Hiwatt, si ce n'est le nom. En effet, elle fonctionne avec une tension plaque interne de 250VDC, et est alimentée par un adaptateur 230VAC/12VAC. C'est un Overdrive / Booster qui, gain à fond, donne le son "Won't Get Fooled Again.
Our HCTO has nothing to do with Hiwatt's original HCTO, except the name. The tube has a 250VDC plate voltage, and the unit is powered by a 230VAC/12VAC external adapter. This is an Overdrive / Booster which gives at max. gain the "Won't Get Fooled Again" kind of tone.
---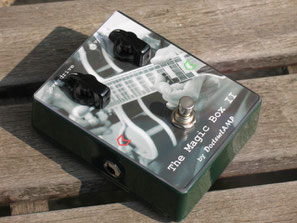 The MAGIC BOX II est censé recréer la compression douce d'un ampli à lampes vintage de petite puissance.
Elle compresse et salit juste le son, sans aucune agressivité, tout en respectant le son de la guitare, et est donc parfaite pour un Blues soft.
Trop soft peut-être ?
The MAGIC BOX was designed to emulate some kind of natural compression of a low-watt vintage tube amplifier, with just enough dirtyness but no agressivity at all. The perfect tool for soft bluesy playing... Maybe too much softness ?
---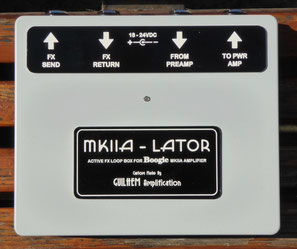 C'est un adaptateur de boucle d'effet destiné aux amplis Boogie MKIIA et MKIIB,  qui rend compatible le niveau de signal avec celui des pédales conventionnelles (-10dbV).
It is an FX loop adapter to be used with Boogie MKIIA and MKIIB amps, which complies with the signal level required by the usual stompboxes (-10dBV).
SPECS :
- standalone unit (2x9V batt. pwr, or 18-24VDC ext. psu).
- internal trimpots for send and recovery levels.
- max. amp loop level : 5.2VRMS (int. batt) or 7.0V (ext. psu)
- send / recovery attenuation / gain : X 10, trimpot adjustable. 
---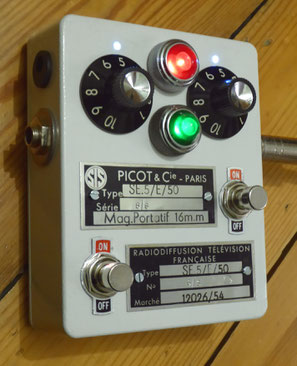 Le PICOTrem est basé sur un kit Surfy Trem modifié de Surfy Industries. Il offre un "Bias Vary Tremolo" et un "Harmonic Tremolo" footswitchables, auquel il a fallu ajouter un filtre passe-haut 24dB/Oct. pour éviter le "teuf-teuf" et le déplacement exagéré du cône du HP de l'ampli (défaut de conception du circuit Surfy Trem). La vidéo ci-après montre très bien l'efficacité du filtre passe-haut...
The PICOTrem is derived from a Surfy Trem kit by Surfy Industries. It offers the "Bias Vary Tremolo" and the "Harmonic Tremolo". A design flaw in the original Surfy Trem circuit required the addition of a 24dB/Oct. Hi-Pass filter to eradicate the noisy and dangerous "Thump-Throb" of the speaker of the amp. The video below shows neatly the efficiency of that filter...
---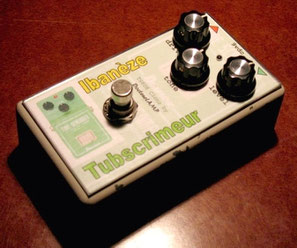 Le TUBSCRIMEUR est une version modifiée de la légendaire Ibanez TS9, avec un peu plus de brilliance et de basses, ainsi qu'une plage de réglage de l'overdrive plus étendue vers le bas et vers le haut.
The TUBSCRIMEUR is a modded version od the famed Ibanez TS9, with more brilliance and bass, alongwith a wider range of overdrive settings, lower and higher.